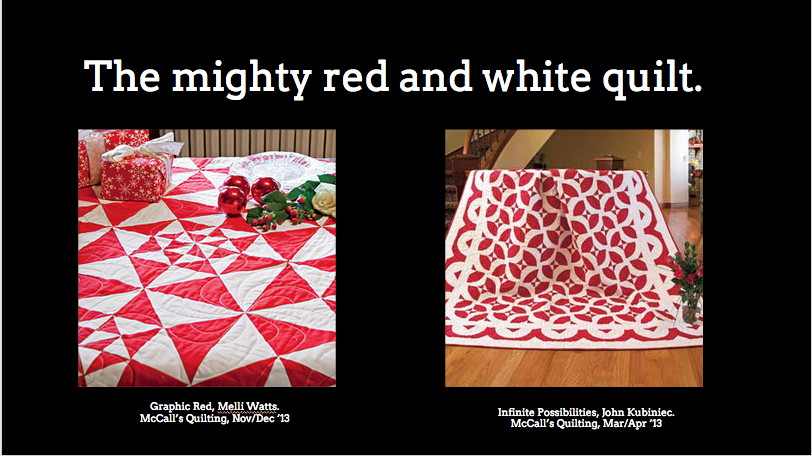 On Monday, something unique and (hopefully) extremely awesome is happening from 1-2pm, EST: the first live, online webinar in the Color Me Quilter series is taking place. Let me tell you what this is.
I understand that you may be slightly skeeved or grumpy about the word "webinar." I was both skeeved and grumpy when I first came into contact with it because it seemed trendy — goofy, even. But I was wrong to sniff at the webinar because as it turns out, webinars are great. I've taken a bunch of them and I love them.
A webinar is a seminar on the web. (You probably figured that out.) But what you may not know is that the seminars of days past, the ones you saw in college or at "a function," they were rather dry and you had to sit in a darkened classroom or lecture hall try to not fall asleep. The Internet has changed all that. Now, seminars — webinars! — can be viewed by you in your fuzzy slippers at home, the best of them are bright and fast-moving, full of juicy content, and they are interactive. That's right: you can ask the person leading the seminar (in this case, me) questions and stuff, while it's all happening.
Quilters ask me again and again, "How do I choose fabric?" and that question is first answered in regard to color. The color value and its level of contrast in regard to other fabrics, the scale of the print — this is fundamental stuff when you're making a quilt and you know what? I can help you. I know this stuff.
One Color Me Quilter webinar is one hour. There will be one each month for the next year. (You don't have to buy them all or anything, don't worry.) Each month, I focus on a different color — I thought it would be fun to set it up like that and so far, it's so engaging and interesting, other work has taken a backseat to my work on the show — do not tell my publisher this. The color that will kick off the whole series on Monday and part of the reason I'm geeking out? It's my favorite color: red. I go through the dyeing process, red's placement on the color wheel, how to "audition" different reds. You get quilt history. There are patterns to download. There are pitfalls examined and advice is given on how to avoid such things. Visually, it's a feast. Informationally, it's Thanksgiving dinner. Let me feed you red.
Do you want to join me? I hope so. It's $19.99. NOTE: For me to earn my living, it is extremely important that you go to this link first to buy the webinar! You'll see the list of "Mary Fons Presents" links there, which will take you to the purchase page at Fons & Porter. Being self-employed means any traffic I drive through my own website returns me more pennies on the dollar. Is it sexy to mention it? No. Is it me, lookin' out for my pennies? Yes! (Remember, I have to buy groceries in Manhattan now. Do you have any idea how much butter costs in the East Village?? It's not pretty.)
Thank you all. Hey, here's that link again — you'll want the first webinar listed, on "Red." I do hope to see you on Monday, friends. You will like it.