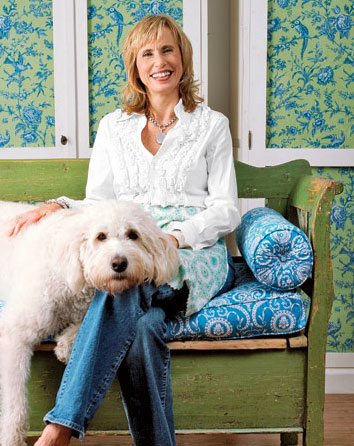 I have made a new pal this year. Her name is Jennifer.
Jennifer is a rawther famous fabric designer, and I might've met her at Quilt Market, or maybe at an industry cocktail party (not that I go to those all the time but it's possible.) We didn't meet that way, though. I first met Jennifer Paganelli outside a train station in Connecticut.
One day last spring, a mutual friend and I were invited to her home for the day, because that's how Jennifer Paganelli is: if you've passed a basic-level "this person is not a psychopath" test, she is more than willing to make a seat for you at her (fabulous) dinner table. And so it was that my friend and I took the train from New York out to Connecticut and Jennifer met us at the station in her car. I remember she had this great navy blue, boat-necked sweater on. (Why do we remember these things and not other things? I don't remember how she had done her hair. And isn't it funny how we often stress about our hair when it's the sweater everyone remembers.)
When I first started making quilts, I was as dazzled as anyone else by the amount of gorgeous fabric in the world. It was 2008, and I had a stash to build. My local quilt shop, Quiltology, was run by my friend Colette, and Colette had excellent taste. She stocked Kaffe Fassett, Joel Dewberry, Kona Cottons in as many shades as she could fit, and bolts of other fabrics by great designers who, for this quilter, absolutely provided the inspiration needed to get started on making quilts that didn't look like my mom's. If you've heard me lecture, you know that a) I love my mom, b) I love my mom's quilts, and c) I don't want to make my mom's quilts. The fabric I found at Quiltology and online was the beginning for me in finding my own path in the art, and, eventually, in the business.
Jennifer Paganelli prints — there were many on offer at Quiltology — are in all my first quilts. Her fabrics are in a lot of my later quilts, too. Heck, I think there's one in my latest latest quilt, the one in my machine right now. These are fabrics full of color, whimsy, good-humor, and generally full of life. Basically, the woman's fabrics are like the woman herself. And her extremely large dog, George. He is also full of whimsy.
At the house, we spent time in her archives, looking at just some of the amazing vintage textiles she collects. It was upstairs in a studio room where I spied of the original fabric that I had used years ago in my first quilts. If you've ever tried to squelch a fangirl moment, you know how I felt. Jennifer and our friend were checking out something on the other side of the room and then I squawked. It went something like this:
ME: Oh, wow! Sorry. I know this fabric. I had this in a couple quilts and actually, you know, the laminate version… I put that down as the liner in my silverware drawer for several years. That's like… That's like my life, that fabric.
JENNIFER PAGANELLI: (looking over, smiling.) How cool is that?! That's great!
ME: It's so cool you designed this. That is…cool. Wow.
I'm saying I was real smooth, is what I'm saying.
Throughout the day, Jennifer absolutely showered my friend and I with gifts (I have a Sis Boom skirt and an apron combo I wear when I'm baking that Yuri likes quite a bit) and then her husband made an absolutely delicious dinner for everyone. There was tender, juicy meat involved, fresh vegetables, and also ricotta cheesecake, which, coming out of the oven the way it did in that big beautiful farmhouse in Connecticut, it may have been illegal. Some old vice law on the Connecticut books was surely violated when that pillowy, sweet-but-not-too-sweet ricotta masterpiece was placed on the marble countertop. Oy.
Way more important than all these (oft-literally) material things to a new friendship, though, is the other stuff. Jennifer has become a true friend because she is a good listener and because she has great compassion for humans. She is also really funny and her life, from what I have surmised, has all the trappings of a well-lived-so-far life: joy mixed with suffering mixed with change mixed with survival mixed with joy.
And so this is my blog post about my friend Jennifer Paganelli. Thanks, Jen, for helping me out. I woke up today wanting to do something out-of-the-blue nice, just because. I woke up wanting to do something you would do.