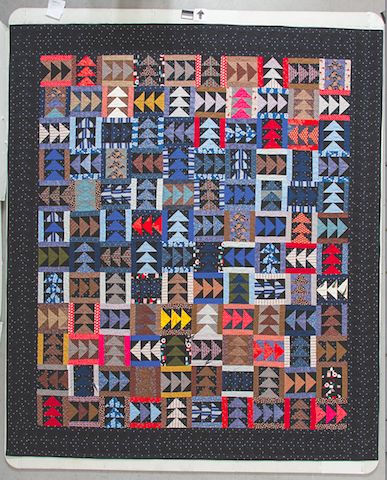 Most people assume I have been making quilts since I was small. My mother, Marianne Fons, is a famous quilter, so it makes sense that she would've taught me how to sew from an early age. If I had shown more interest, she most certainly would have. We made a few doll quilts and a few quilts for friends of mine, but my creative pursuits took me to writing stories, putting on plays, singing…and creating and editing a magazine for my junior high school called TRUTH, the name of which I got from a film strip we watched about Russian communist propaganda newspaper, PRAVDA (translation: "truth"). I hired my best friends as columnists and we put out six issues with zero ad support. True story. Have I mentioned I didn't have a boyfriend till my senior year of high school?
I started making quilts about six years ago. In my lectures to quilters, I talk about the reasons why:
I realized I didn't have to make quilts that looked like what I saw in contemporary magazines or books; my quilts could look like ME, with solid black fabric, and teeny-tiny prints, and washed out shirting prints, and zero rick-rack

it was no longer uncool to be like my mom — in fact, it struck me as the coolest thing ever to be a part of my family's place in the world

I got really, really sick and I needed non-medicinal healing (hello, patchwork)
the timing was right, age-wise. I was in my late twenties and ready to sit down for five seconds
And so I became a quilter and making quilts has brought me untold joy ever since. I'm not sure how many quilts I've made; it's dozens, and they're all kinda huge. Mom has always told me to make quilts that cover people, since that's what quilts are for. The Fons women don't do table toppers, though we support anyone who does. We support quilters, period.
A sewing machine with my name on it arrived in New York City yesterday. The fine folks at BabyLock are loaning me an Ellisimo while I'm here, and I carried that huge, glorious box 2.5 blocks and up 2.5 flights of Manhattan walk-up stairs with huge smile on my face. Anywhere I hang my hat for more than about four minutes simply ain't a home unless I've got a sewing machine nearby. Making patchwork and making quilts isn't just something I do: it's something I am. The craft, the gesture, the sense-memory of the process is in my DNA, now. I quilt, therefore I am a whole person.
I have absolutely no idea where I'm going to put this thing. Seriously.