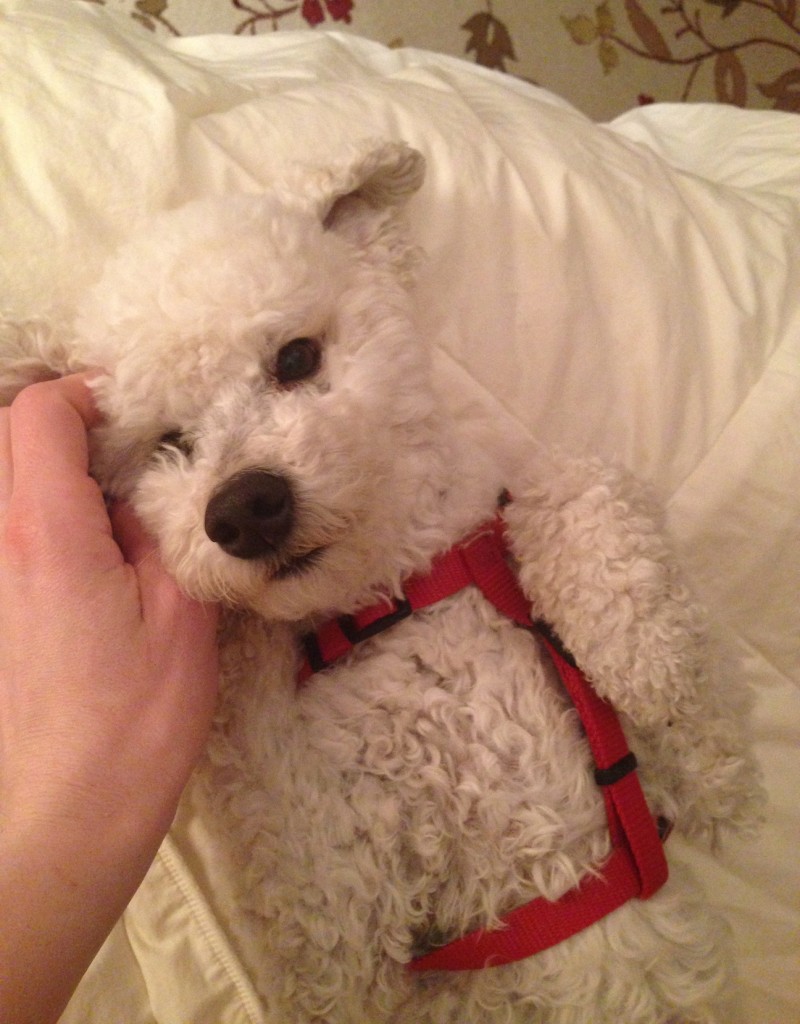 For the past hour I have been working on the post I wanted to post this morning. It's turning into quite a beast of an essay and it's simply not ready for prime-time. It's about Hollywood and how I can't take it anymore.
Since I can't post something half-baked but I hate missing a day — and because I'm bone-weary tired and need to introduce my head to a pillow for once in my life for heaven's sake — I've decided to share a picture of Scrabble, my mother's miniature Golden Doodle.
Scrabble is a dog that looks like a lamb, behaves like four-year-old child (curious, adorable, infuriating), and is named after a board game. She can fetch a quilt, shake hands, and has lots of work to do in the evenings: she has to run around the yard and bark for 20 minutes.
"Scrabble's doing her barking work," my mother will say, loading the dishwasher.
Scrabble loves me and I love Scrabble. This photo was taken at about six in the morning last month when I was home in Iowa filming TV. She sleeps downstairs, but when she wakes up in the morning, she'll bolt all the way upstairs to my childhood bedroom and dive-bomb my head in order to cuddle me. She is not allowed to lick my face; she licks my face anyway.
Scrabble, if you were able to send emails for me or finish my blog post — or fact-check it at the very least, Scrabble! — you'd be even more precious to me than you already are. But I suppose your being a dog confers special qualities that cancel out your human shortcomings. So it's a wash.
Goodnight, Miss Muddy Paws, wherever you are in the Iowa house tonight.
BONUS: I never do it, but you'll see why this is worth an outside link. Watch Scrabble fetch her quilt for my Mom.