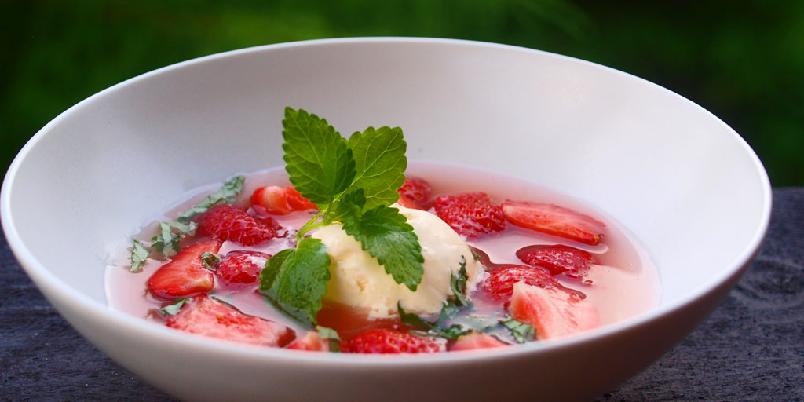 I once ate something so delicious, I burst out laughing.
It happened in Paris; so many glorious moments do. Was I twenty? Was I blonde? I think I was twenty and blonde and I was in Paris on the back-end of a trip to Provence to visit fabric manufacturers with a murder of quilters.*
I entered a cafe on that end-of-June day. It was any cafe, every cafe. The sun was setting over Paris; Paris, that jewel-encrusted dot on Planet Earth. I was full of Paris but my stomach was rumbling and I remembered what Hemingway said in A Moveable Feast: "…the pictures do look better when you are hungry." Sure they did, and I was ravenous. I ordered a large chicken (prepared) and ate with gusto, the only person in the cafe actually having dinner. Parisians seem to eat nothing — and they eat late. But I didn't care; I had sacrificed real shoe leather exploring the city that day. I had earned my supper.
I also earned my dessert.
The snooty waiter — straight out of central casting — handed me the dessert menu. Rhubarb soup. That was on the menu, rhubarb soup! I had not had rhubarb soup. Growing up in a town of 5,000 people in rural Iowa, you don't get many opportunities for these sorts of things.
The soup came chilled in a shallow, wide-lipped ceramic bowl. There was maybe three-quarters of a cup of this impossibly delicate, translucent pink wash. Floating on top were slivered strawberries and a few green springs, which I determined to be mint.
"Et voila," said the waiter, and he sashayed away. I took my spoon and dipped it into that cold little lake, swiped a touch of the cream on the top, and delivered the spoonful into my mouth.
Float. Moment.
It was like drinking water that had made love to a strawberry bush. It was like sucking a peach. It was like having a crush on a boy.
I burst out laughing. "This is so good! Oh, it's so good! Oh my god. Oh my god. Oh my god."
And I just sat back and laughed. I was like Sarah in the Old Testament, except that she was a really long way from Paris. It was absurd, this bowl of chilled rhubarb soup. I had never eaten anything like that in my life and to be honest, I haven't since. I've had some fine food in my day: 'tis no small praise to say it was the most marvelous thing I've ever put in my mouth.
Turns out this is a Norwegian dish? My internet research tells me so. It's called rabarbrasuppe and the recipe is as simple as can be. My people are Norwegian on my father's side. We're fierce Vikings to be sure, but I like to think of my Thors and Vals sitting around slurping rabarbrasuppe between battles, holding onto their horned helmets as they laugh out loud at impossible things: death, losing a battle, and chilled rhubarb soup.
*The most compelling choice for a group of quilters is not a gaggle or a flock (what are we, peahens?) but a murder, as in a murder of crows. We'd get a little more street cred.