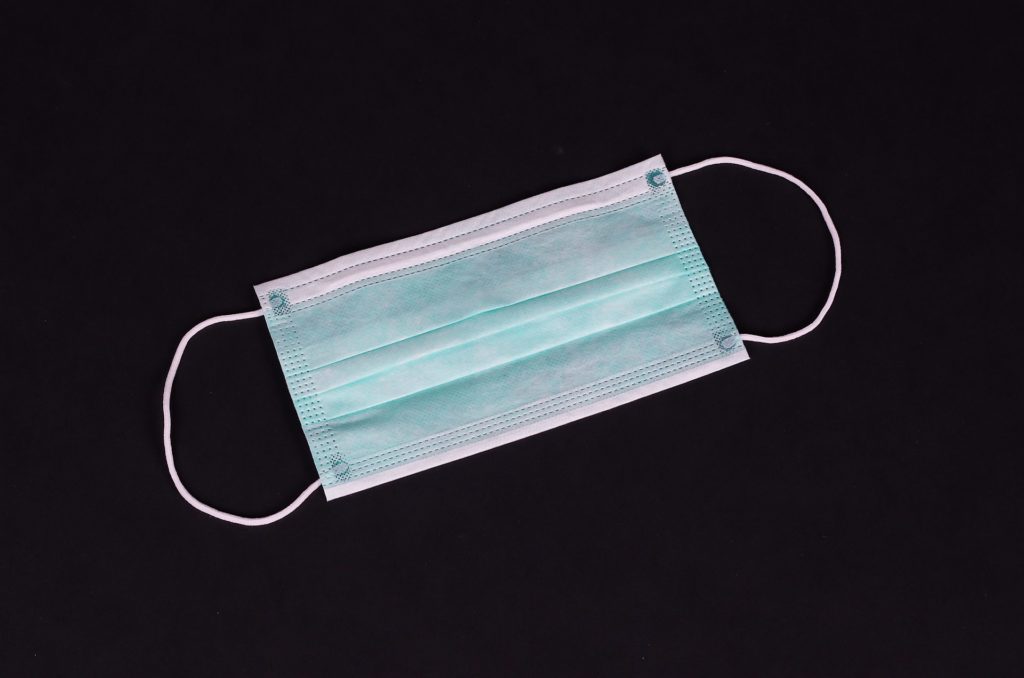 Eric and I were onboard with masks early in the pandemic.
In fact, before face masks became widely available, I constructed a whole pile of janky ones out of vacuum cleaner bags and twist ties. I even made a YouTube video about it but took it down after a few days because I occasionally practice good judgement. Those runty little masks were made in a panic and looked like it. Sure, they were kinda punk rock and would have been better than nothing, but they were not fit to broadcast on the internet. Soon after I unpublished my video, tutorials on how to properly construct fabric facemasks from a pattern — the audacity — flooded the YouTubes, so I was extra relieved that I had yanked my video. In many areas of my life, my enthusiasm greatly outpaces my attention to detail. I'm aware.
Anyway, Eric and I committed to wearing boring, normal, well-constructed masks. We loathed them as much as anyone. But it all changed on that fateful day two summers ago when my veneer popped off my left tooth.
I was munching caramel corn, watching the Avengers avenge and bit down on what I thought was a kernel with lots of carmel on it, just a particularly crunchy piece. But after a moment, I sensed something strange … Was that cool air on my left front tooth? No, that wouldn't make sense. I ate another piece of popcorn.
When the cool air feeling didn't go away, I ran my tongue over my front teeth. Huh. My left tooth felt … rougher than the right one. It didn't hurt or anything, but something was off. I put my finger on it. Oh dear. Oh no, no, no. Definitely rough. Could it be … oh dear God!
Like a bottle rocket had gone off on my side of the couch, I shot over to the mirror in our entryway. I stuck my nose up to the glass. I bared my teeth. The right front tooth looked normal, but the left tooth looked very, very wrong.
Instead of a tooth I could be proud of, I was looking at a shrunken little monkey's paw tooth. Right there in the front of my face, on the left, yellowish and slightly filed down, was my permanent incisor with the accursed fluoride mark, same as it ever was, exposed after years of concealment. The veneer had broken off my left front tooth — and I had eaten it.
"Eric!" I screamed, "My veneer! My veneer came off! My veneer!!! It's happening!!!"
Eric dashed over. He took me by the shoulders and turned me so I was facing him. "Hey, hey, it's okay," he said. "Are you hurt? Let me see."
"Hm-mmn!" I shook my head and pressed my lips together. My head was bowed so low my chin was touching my chest. Have you ever wailed with your mouth shut? It's kind of hard to do, but it is possible.
Eric smiled, but not in a mean way; I was clearly going through something. But once he confirmed that I wasn't in pain, and heard me mumble through my closed mouth that I had a monkey's paw tooth and was dying, he could see the humor in the situation.
"Let me see," he said, chuckling. "It's probably not as bad as you think. It's okay. Show me."
With the doleful look of a dog who has been caught getting into the garbage, I raised my head. I pulled back my upper lip and braced myself to see my husband look at me in horror. But he only hugged me and began to laugh quietly.
"Oh honey."
Honestly, it wasn't that bad. It turns out that the teeth I have under my veneers aren't withered, decaying brown stumps. They're slightly smaller than they were when they came in, but not by much. They're yellowish, but not because they're unhealthy; they're fine. But the fluoride marks are still prominent, and I stand by this. The veneers are warranted. I made an appointment at the dentist to get them replaced — I was sure the right one was about to go as well — but when I learned they couldn't get me in right away, my despair returned. Eric still loved me but how could I go outside and talk to people?? How could I face them, disfigured and diminished as I was?
Then I remembered: face masks. No one but the dentist would see my monkey's paw tooth because no one would be seeing my teeth at all. In fact, no one but Eric had seen my teeth in months.
After years of fear at the prospect of a veneer breaking off, it happened, but it happened during a global pandemic. I hadn't counted on that one, but there it was. The pandemic is bad, don't misunderstand me. But last summer, I was able to literally cover my mouth with a face mask to hide my dental shame and that was a gift.
Thanks, Covid-19. (I guess.)