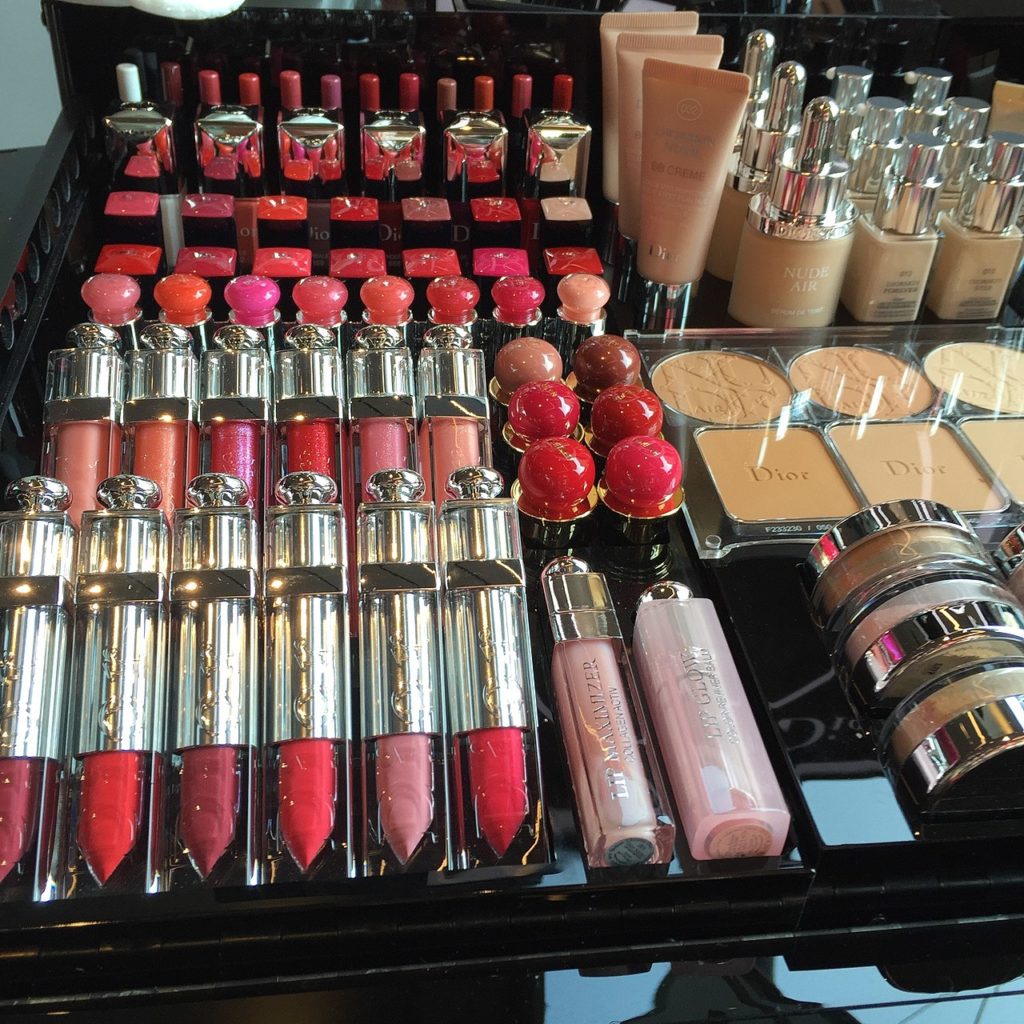 I haven't always resented makeup. And I don't always resent it now. In fact, today I have a stress-induced blemish that is taking over my entire face, so my concealer is my best, best friend.
But — concealer notwithstanding — makeup is making me mad these days.
In the small village where I grew up, Montross Pharmacy sits on the west side of the town square. If you google "Montross Pharmacy", you'll find it's described as a "pharmacy/gift shop/soda fountain", which tells you a lot about Montross Pharmacy and a lot about the village where I grew up. You can get diaper cream, antibiotics, and Dr. Scholl's products in the pharmacy department. And in high school, my friends and I would dangle our legs off the high-top chairs at the counter after school to wolf grilled cheese sandwiches and french fries (me), or patty melts and onion rings (Annie) and get green rivers to go.
It was in the gift shop at the front of the store where I got my first look at makeup. I'm sure Mom had some at home, but I don't think I ever got into it. I was a tomboy for a long time because I did absolutely everything my older sister did. Hannah is now very, very good at makeup and seems to enjoy it immensely, but that didn't happen until she was in college.
For me, it was middle school. As puberty had its evil way with me, I became extremely interested in the compacts of blusher (I swear they called it blusher back then) hanging on the back wall and the spinny racks stocked with strange- and wonderful-smelling lipsticks that were full of chemicals that I'd guess aren't allowed in lipsticks anymore. There were mascara tubes — I had no idea what mascara was about and was therefore extremely wary of it for some time — and round boxes of loose powder with pounce puffs inside.
If you wear makeup today, you probably have products by Tarte, or bareMinerals, or Stila, or various items from the roughly nine zillion other options available from makeup specialty stores like Ulta and Sephora. None of that existed when I discovered makeup. Fancy city ladies may have gotten their cosmetics at department stores, but us country folk went to Montross Pharmacy for our makeup. And L'Oreal, Maybelline, and CoverGirl are still drugstore staples, God bless 'em, but when I discovered makeup, it was all about O.G.s like Wet n' Wild, Coty, and Bonne Bell.
Can I get some love in the back for Bonne Bell. Also can I get at least a smattering of applause for Love's Baby Soft. Thank you.
Eventually, I was able to buy a few cosmetic products with my allowance and got permission from Mom to wear it. I've been wearing makeup ever since. I am a pale-complected woman. Blusher helps those around me know I'm actually a living creature, and it makes me feel pretty. Blush is my favorite makeup product, with mascara a close second. It's rare that I go out of the house without mascara. It opens up my eyes and … I don't know, I just like mascara.
But like, these days? These days, so many females wear so much makeup. We all know how it happend. It's the specialty stores, it's the proliferation of cameras in our phones, it's social media, it's makeup tutorials on YouTube. The rise of the selfie gave rise to a makeup industry that, when I was a budding consumer, was valued at … okay, I've just spent 20 minutes trying to find the valuation of the U.S. cosmetics market in the 1990s but I'm getting nowhere and I need to get to the office. I can tell you that today, the U.S. cosmetics market will reach a value of 25 billion by 2026. It's staggering, this change.
And lately, I've really resented "having to wear makeup". Of course I don't "have" to wear it. But I do a livestream show 2-3 times a week* and I don't feel comfortable slapping on some moisturizer and leaving it at that if I have an audience. Makeup does give me a measure of confidence and after 30 years of wearing the stuff in the daylight hours — and sometimes after dark, if ya know what I mean — I feel weird without it.
But it takes time to apply it. I could be doing other things while I put on dumb makeup. And it's expensive. And boys don't have to spend time putting on makeup and boys don't have to spend their hard-earned money on it and basically, I am having a very feminist moment with makeup and it's not equitable and it's not fair and I hate it.
And now I have to go because you know why? I have a video call in 20 minutes and I have to go put on some makeup. That's literally why I'm ending this post right now with a weak closing paragraph. Not cool, society. Not cool.
*I'll tell you more about this in the coming days, but until then, you should for sure tune in to Quilt Nerd. It's live, free, it's on Tuesdays @ 7pm CST and Saturdays @ 8pm CST, and I do other shows in between, sometimes. Go to twitch.tv/yomaryfons and get yourself a Twitch login and join me. It's really fun and I'd love to see you.