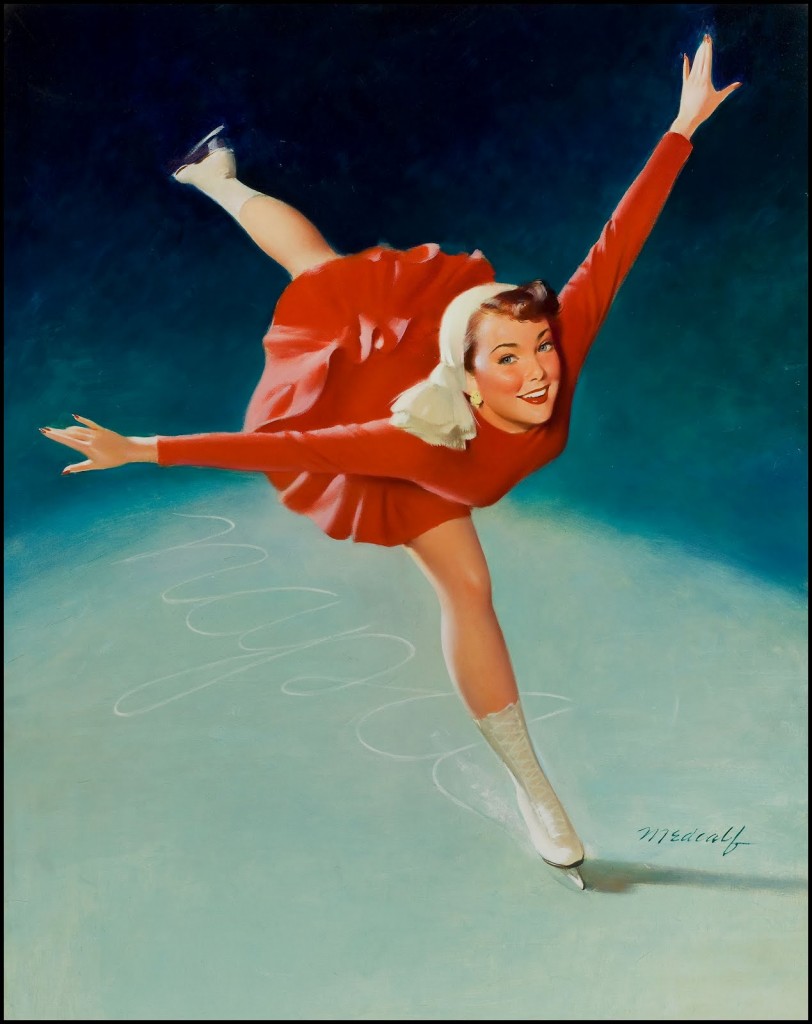 Today, we're going to skate in Bryant Park in the name of Santa!
I have my own ice skates in Chicago, but I didn't bring them. Placed in my suitcase, they left room only for a pair of panties and a toothbrush. Some people would argue that that's all you really need when traveling to New York, but let's not be those people.
I got my skates last year for Christmas after being a renter for years. Mama gave me a pair of pretty white ones with pink blade covers and a can of balm to keep the skates supple. I hooted with joy when I opened the box and promptly suppled up. When you love something, you should take care of it.
My first time with my very own skates was a cold night in January. In wintertime, the Millennium Park cafe space turns into an outdoor ice rink. The rink is a fifteen-minute walk from my condo, so I tied up the laces, slung the skates over my shoulder, wrapped a warm scarf around my neck/head and headed out. When I reached the park I looked like a character from a Normal Rockwell painting, all rosy cheeks and woolen mittens. I went through the gates, took a seat on a bench and laced up my skates. My skates! I was so excited.
That night, there was a group of teenage boys who were dominating the rink. Some would say they were terrorizing it, but they were having so much fun it was hard to be negative about them. The three boys were doing tricks, skating backward so fast they got the whistle blown at them, and doing spins and funky toe stuff. It was the backward skating thing that got me, though. I'm a decent ice skater but I have a really hard time going backward. I wanted them to teach me how to do it and of course the first thought was, "Well, it's not like I can be like, 'Hey, how do you do that?'" My second thought was, "Why on earth can't I ask them?"
When the boys took a break and were hanging out just outside the gate talking to some girls, I skated straight up to them.
"Hi," I said. I was out of breath and nervous, too. "I wanna skate backward. I don't know how. Teach me how." Saying "please" could come later, but in the moment, I felt a direct approach was best.
The boys were surprised, but they grinned after the initial "Who the hell is this chick?" reaction.
"Aiight," said one of them. "I'll teach you. Come on."
And he taught me. To skate backward, you gotta stick your butt out. A lot. Yes, I was well aware that this young man was telling me to stick my butt out and that he might've had ulterior motives for doing so. But he was sticking his butt out, too, and he could skate backward like a champ. He also told me when I was sticking it out too much, which struck me as gallant. He praised me when I was getting it right, he helped me up when I fell, and he corrected me plenty, which — trust me — was appropriate.
Just ask for what you need. You might be surprised. Merry Christmas!