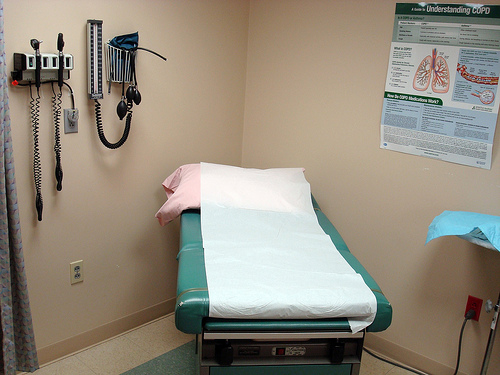 Moving to a new city means finding a new salon, a new grocery store, a new bank branch. For me, it also means finding new doctors. On my shopping list: GI, OB-GYN, primary care, anesthesiologist, and possibly a colorectal surgeon, but I was crossing my fingers that last one could wait. Looks like not.
It's not that I want to have all these doctors. I'd like to have zero doctors (no offense to any physicians out there) but that's not realistic for me. My case file is the size of an oak tree stump: I need people with stethoscopes in my life. And so I did some hunting and found a primary care doc I like and he has so far made good referrals to me.
On Wednesday, I saw my new GI. It was my second visit. He was wearing a bow-tie this time. If he had been wearing a bow-tie on my first visit as well, I might not like him as much as I do. But he is a man who clearly varies his bold neck-tie choices; this causes me to put more confidence into him as a physician. Sure, it's solid reasoning.
Dr. L. is concerned about me. I've got some issues that aren't going away since my last surgery in 2011. Sometimes they hang out off in the distance, sometimes they creep into the frame and cause real trouble, sometimes they come in and kill everything.
"Have you ever considered…" Dr. L. paused, and set down his pen. What he was about to say required full eye-contact.
"Have you ever considered going back to the ostomy?" he asked. He paused. "Choosing a permanent ostomy, I mean?"
I didn't say anything. "Choosing" is not a word that has come into play much in the years since I was diagnosed with ulcerative colitis. Not in doctor's offices.
"The troubles you have, they would go away with a permanent ostomy," Dr. L. said. "It's a big decision, I realize that. But…" I was staring at my feet. My feet were dirty because I live in New York City now and New York City is filthy and I was wearing sandals. My feet looked cute and filthy. I thought about how my sister and her fiance Jack went to Tokyo for New Year's and Rebecca told me all about how in Tokyo, there are no garbage cans. Everyone packs their trash in little bags and throws everything away at home. Toyko compared to New York!
"I'm not sure I'm ready for…" I trailed off. "I don't know." My voice was a croak. The ostomy. Permanent. I thought I was done.
My throat felt tight and hot. Though my body is often weak and I live an inconvenient, painful, and senseless physical existence (as it relates to my guts) 80% of the time, the one thing I have going for me is that there is not, presently, a bag affixed to my abdomen that catches excrement that oozes out of a pulled-out piece of my intestine. I did have one of those bags and one of those pulled-out pieces of intestine for about three years, in total. Not great.
But what I deal with now is also not so great.
"Do you think," asked Dr. L., "That your partner would be okay with something like that? Do you think he would be…understanding?"
My heart clenched. An inward moan. Yuri.
"I don't know. I'm not quite ready for that, Doc," I said. No crying, no crying. "He'd be wonderful, sure, but… I'm just not. He's younger, you know, and I just, ah…" Tears were forming and I needed to stop the conversation immediately. "I'll think about it."
"Okay," said Dr. L. with a kind smile. "I'd like you to see a colorectal surgeon about a treatment we can do for you in the meantime." He then explained the treatment, and I was glad he did because it's so awful, it got my mind off the ostomy. I could instead be horrified by what the surgeon will do to me (for me?) in a few week's time. Much easier to focus on that and my filthy feet.
"Thanks, Doc," I said, and got the surgeon's name and number. "I like your bow-tie, by the way."
"Thank you," the doctor said, and went out the door. I hopped off the exam table, removed my paper gown, and got dressed to go back out into the city.