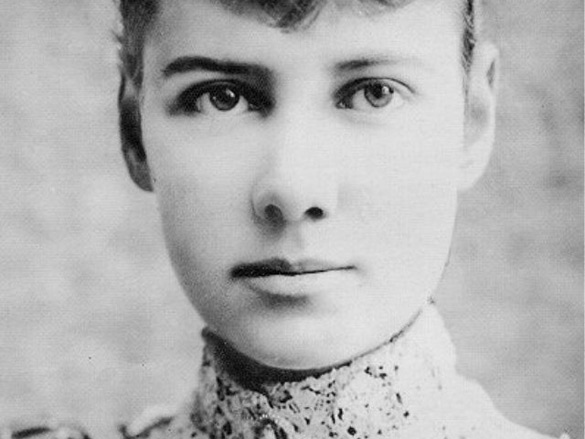 Beginning around 2006 or 2007, when PaperGirl was hosted by another server, when the layout was way different, when life was baffling and great but in totally different ways, I presented from time to time dialogues between myself and Nellie Bly. Long-long-time readers may recall these; I may dig one up one day for our fun. They're all in the archives.
Nellie Bly is known to grammar school students across America as "the first woman reporter" and I doubt that that is true, history textbooks being what they are (watered-down and probably SEO-driven at this point.) Bly was certainly among the first women journalists to be recognized for their work in the profession, and that makes Nellie Bly cool. She's cool enough to be the subject of innumerable 5th grade book reports, cool enough to have an amusement park in Brooklyn named after her**, and cool enough to be the only person I've ever wanted to be a foil to my brain in this blog.
When I was at my sickest in 2008-2009, Nellie Bly and I would have what I called "Health Chats," where she would ask me questions about the state of my scary body and I would answer. I always told her the truth. On the days when I couldn't possibly figure out how to otherwise narrate what was happening to me — either because I was too high on Dilaudid or because the news was too bad and too overwhelming to comprehend — writing a two-person conversation felt like my only option. But it was an option I loved. I just talked to Nellie; I just answered her questions. We talked about other topics from time to time, but for the most part, and definitely during my illness, it was "Health Chat" with Bly every week or two because it helped me get better. I believe it.
I only realized a few hours ago that it's International Women's Day. Re-introducing Nellie, vis a vis PaperGirl, is perfect for the occasion.
Stay tuned for the conversation.
**Recently renamed "Adventurer's Family Entertainment Center" because no one cares about anything and everything is terrible.