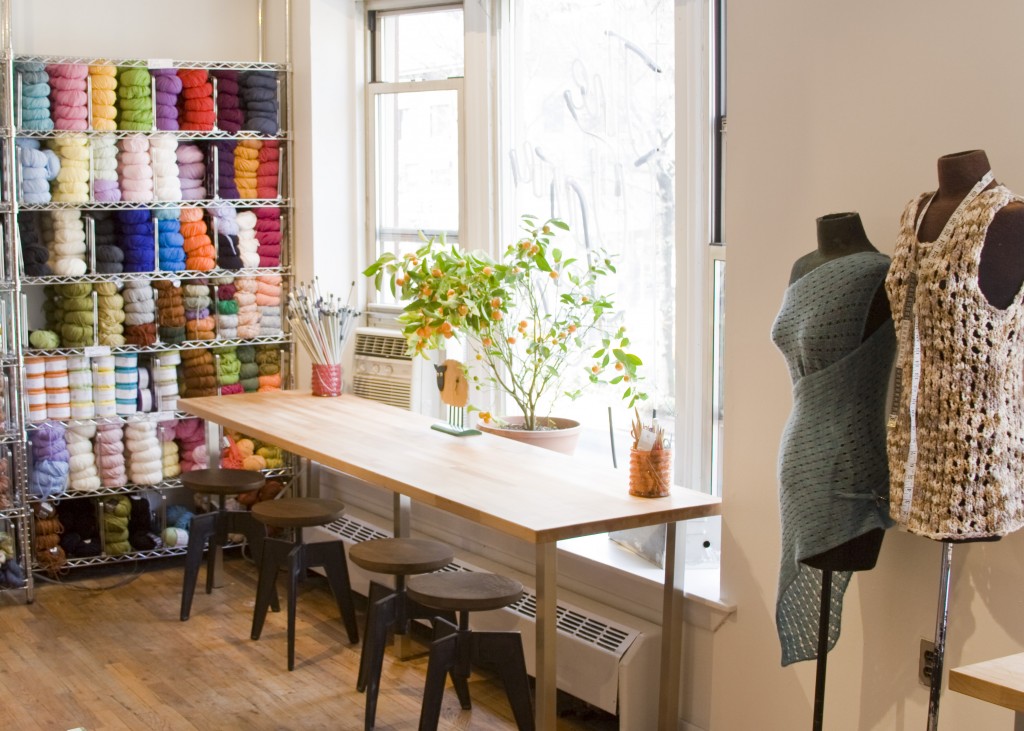 Something magical has happened.
As excited as I was about getting my BabyLock here in New York, cold, hard reality smacked me upside the head the moment I took that glorious sewing machine out of the box: there's about as much room for quilt-making in this apartment as there is for woodworking or ballroom dancing, which is to say there is none. What to do? To make patchwork is to live — and I am not ready to die.
Well, it just so happens that I have lovely friends. And those friends have lovely friends. And the majority of this collection of people, we make things with our hands. There exists a kind of code, or a kinship with us: no one is going to let anyone die from art/craft-related complications. You need a 1/2 yard of a Kaffe Fassett print from 2006? Baby, I'ma hook you up. Fresh out of sequins? I got this! We trade binding for quilting, piecing for yarn; we share scissors, gum, patterns, rides to the airport to go to the shows. We help each other because we're human and humans (mostly) help each other, but we go extra miles for makers because we are also makers.
And so it was that on Friday, a kind and virtuous friend (let's call her Susan because her name is Susan) was in New York and wanted me to meet someone. She wanted me to meet Tavy, co-owner of The Yarn Company on the Upper West Side. For all the quilters out there who are also knitters or yarnfolk, you may have just squealed with delight. The Yarn Company is a legendary yarn and knitter's shop. It was the cradle of the knitting craze that began in the 1970s, the craze that has stayed with us ever since, waxing and waning over the decades a bit but mostly waxing. When celebrities in the 1970s were in homemaker magazines with their crochet hooks, they got them at The Yarn Company. When knitting got hot again with the so-called DIY'ers in the late 1990s, The Yarn Company was right there, packing its slender rooms on the second floor with crazed, "I must knit nine more scarves immediately!" people who flocked to yarn mecca.
Tavy and her brother Assaf bought the shop in 2011 and breathed new, needed life into the place. These days, it's all warm wood and great light and big, broad tables. The yarn surrounds your very soul when you walk in: there are colors and textures of yarn that defy description, they're so beautiful and soft. If yarn could melt in your mouth — if that were something that you would want to have happen — you'd get that yarn at The Yarn Company.
But it ain't just skeins over there. The shop likes sewists and they love quilters, too. They have a gorgeous collection of yardage, though it's modest at the moment. They teach sewing classes. When Tavy and her brother bought The Yarn Company, their vision from the start was to incorporate more makers than just the yarn people.
Enter The Yarn Company's first-ever Quilter In Residence: me!
The good people of The Yarn Company have extended an invitation to me to set up my machine in the second room of the shop so that I can cut, sew, press, design, and hang out there. (I plan to learn to knit by osmosis.) I'll be able to talk to knitters about quilts and why they should make them. I'll be able to have a little design wall, something not possible in the apartment at all. I can answer patchwork questions if they come up while I'm there during business hours and I can sew late into the night! And there's amazing vegan food across the street! Not that I'm vegan! But still! Vegans! Sewing blocks! Upper West Side! Yarn people! City quilting! Oh, the humanity!
This is gonna be really fun. My thanks to The Yarn Company in advance. Watch this space for news about events and things because they're sure to occur. Tomorrow, I'll go to the shop and set up my Elissimo and my cutting mat (thanks, Havel's Sewing!) and I promise to post pictures on Facebook of what's being made.
Just get out of bed in the morning. That's all you have to do. Life transpires.