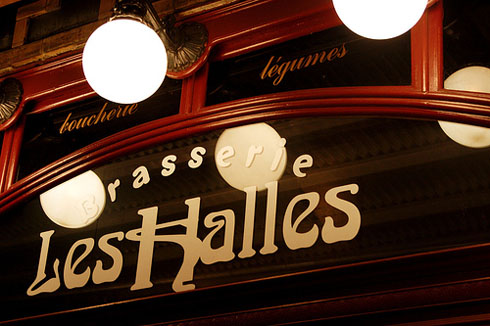 (Nellie Bly and Mary are seated at Les Halles on Park Ave., New York City. Nellie wears a two-piece dress and scotch Ulster coat; Mary is in a fashiony black jumpsuit and McQueen lobster booties. Both women carry large handbags.)
NB: You look good.
PG: Please, Nellie! I look drawn and pale.
NB: (Considers this.) Drawn and pale is good in New York City. People spend a lot of money to look like you. (Pause.) But you're right. You look a little rough. I'm sorry — I lied.
PG: I don't feel well. I've felt pretty terrible since Thursday.
NB: Gut problems.
PG: Yeah.
NB: Okay, well, let's… Let's just briefly go over (Nellie takes out a pen and flips through her notebook) the history of your illness. I think there are new readers who will need context.
PG: God, Nellie, please don't make me go through all that. They can read the archives.
NB: No, they can't. The archives are all on the old server. A person might be able to dig and find them, but you'd have to have actual blog post titles to search and that's impossible.
PG: Unless I have a stalker.
NB: (Nellie looks up from her notes.) Huh?
PG: I might have a stalker out there. He'd have all the old blog posts and titles and stuff.
NB: How is that helping new readers?
PG: (Chews on a fancy carrot stick.) I don't know.
NB: Wait, wait. I've got the run-down. (She pulls an iPad out of her bag, opens document.) Here we are. Okay, "Level 3 ulcerative colitis diagnosis in 2008, Mayo clinic. Total colectomy with ileal pouch-anal anastomosis. Major surgical complications, including multiple internal anastomatic leaks, pelvic sepsis, multiple abcesses; stoma separation. Blood transfusions. Malnutrition. Hair loss. Extreme nausea, depression. PICC line. (Nellie pauses, flips papers.) Actually, two different PICC lines. Month-long initial hospitalization and several after that for various walls hit. Then in 2009, takedown of stoma."
PG: That's when the real fun started.
NB: "After takedown, loss of appetite, severe abdominal pain. Diagnosis: leaks still present in ileal pouch, abscesses. New PICC line. TPN for 10 weeks to try and 'starve out' the leak; you only made it six. Fistulae. Hospitalization. 'Bio-glue' inserted into leak. Bio-glue fix unsuccessful. Re-diversion surgery."
PG: Yeah, my second stoma. Back to the bag. I had a stoma two different times.
NB: Which is not supposed to happen.
PG: Nellie, none of this is supposed to happen.
NB: (Continues reading.) Okay, we're almost there. So. You had the stoma again for a couple of years. Then the second takedown in 2011. Things looked okay for awhile, but then you developed a fissure. And that had you in and out of the ER six or seven times over the course of 2012-2013. The good news is that you haven't been in the hospital since… August. Is that right?

(PG, nervous, nods and sips tea.) 
NB: What?
PG: I don't feel good.
NB: Okay, well now we've caught everyone up so we can talk about that. What's wrong?
PG: I can't seem to get on top of feeling terrible. I'm going to the bathroom a lot — more than usual, which is saying something. I've been trying to ignore all week that I feel extremely poor. Weak and tired. Dehydrated. Achy. And it hurts to use the bathroom. It's… It's so unpleasant to talk about.
NB: You don't have to go into all the details. It's bathroom stuff, intestinal stuff. Everyone poops. We get it.
PG: Well, no, most people don't. And that's good. I would not want many people to understand my life vis a vis the bathroom. We'd have a very depressed population.
NB: Are you feeling depressed?
PG: A little, yes. And that's a bad sign. My surgeon in Chicago, Dr. Boller, she would get frustrated with me because I rarely run a fever when I'm getting sick. She'd be like, "Dammit, Fons! Could you run a fever once in awhile so we can catch this stuff before you need major surgery?" I don't get fevers but I do get depressed before I get really sick. I'll be sitting on the couch feeling crappy and then just burst into tears. That's when I know I need a doctor, not when I run a fever. Crying is my fever.
NB: You should go to a doctor.
PG: I don't have a GI doctor in NYC, yet.
NB: You should figure something out, Mary. Otherwise you'll end up in the ER.
PG: (Looks at menu.) What are you having?
NB: Cassoulet.