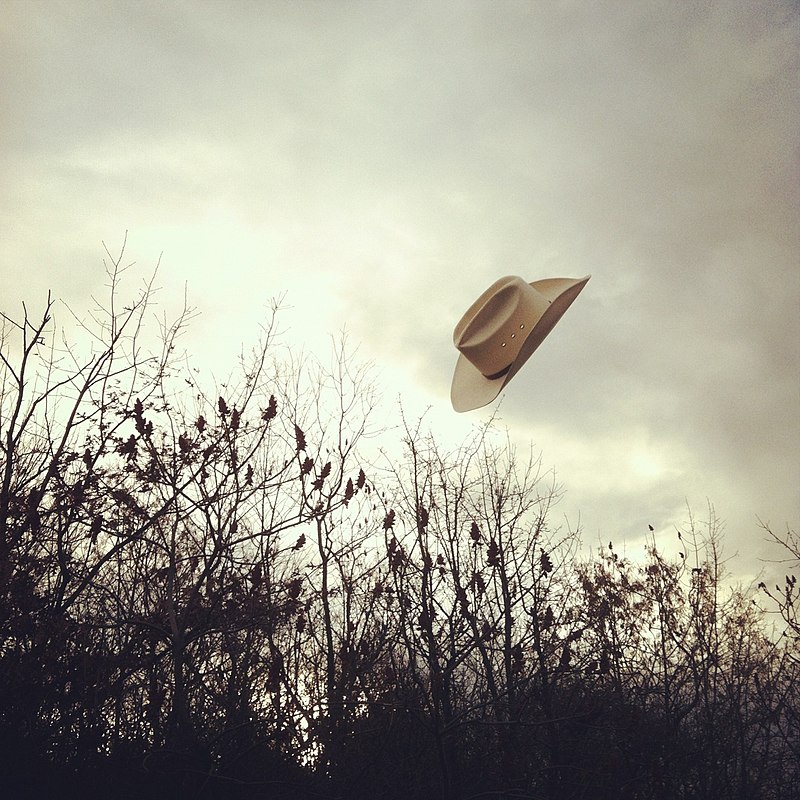 After being on the road for almost six days making Quiltfolk's eighth issue, I was so tired I left my hat in the rental car.
My hat.
The Monte Cristo hat I purchased a year or so ago at Optimo, Chicago's legendary hat shop. The hat which has come to mean a great deal to me for recently discovered emotional reasons related to my father, who has long had an affinity for a Stetson hat of similar style. My elegant, almost aerodynamic, white Panama hat with the black ribbon which has become an essential tool for me on Quiltfolk location shoots, as keeping the sun off my face and out of my eyes when styling photos outside is critical. That's the hat I left under the driver's seat of a Nissan Rogue in the Hertz parking garage on State and Kinzie yesterday afternoon.
And I realized it this morning.
I was writing in my journal about the trip and began to compose a sentence about my hat — and then I froze. My pen hovered over the page. I gasped. My head whipped to the left to look down the hall to my coat rack. No. No, it couldn't … There was no hat hanging there. My mind raced, thinking back to yesterday and I realized the truth: I didn't get it out from under my driver's seat. I got everything out. All the bags, cords, papers, notes, all important objects — except my hat. And I knew it in that terrible moment.
I bolted out of my chair and ran to the computer. I googled the number for the Hertz office. I called and called; no answer, even though the location was supposed to be open. Finally, a harried voice came on the line and I tried to stay calm and explain that I left my heart in one of their vehicles.
"I got a line of customers right now," she barked. "I'll ask Jason when I can, but if we rented the car since you returned it, there's nothing we can do. Try calling back in an hour."
At that point, I was quietly whimpering. I tried to sit down. I looked at the clock. I'd call in an hour. It was there. It's a hat, I told myself. Who would want someone else's hat? Whoever cleaned the car surely found it and put it in the lost and found. It had to be there — and I had to go there.
The last time I got dressed and out the door so fast, I was late for the airport. When I burst out onto the street, I discovered that it was raining. There wouldn't be cabs on 9th Street, no way. My best bet was to run over to the Hilton and get a cab there; that's what I did. As we sped north, I hunched in the seat, brow furrowed, every muscle in my body tense and sad. I was so low. I felt so stupid. I loved that hat and I hate how bad I felt about losing it. It's just a hat, I tried to tell myself, and then a tear would stream down my face like so many raindrops down the taxicab window.
When the girl at the front desk saw me, I blurted out, "Called … about the hat!?" After some discussion, her colleague agreed to take me to the garage to see if anything was still there. The car, it appeared, had not been rented since I returned it — but I didn't dare hope. It had been 18 hours since my hat and I were parted; who knows how much traffic there had been in and out of that garage. Was there a "lost and found" at all?
We walked up to the man cleaning cars that day. Again, I blurted out words. "Oh, yeah," the man said, and I noticed the huge gap between his two front teeth. "There was a — "
"There it is!" the Hertz gal said, pointing to a dingy white ball cap on the top of a rolling cart which I now know is the rental facility's lost and found department. The girl grabbed it and held it toward me, but I did not take it. I did not take it because it was not my hat. And I did not take it because my hat was on the cart, too.
If the absence of my hat on my coat rack was hideous, its presence on that dirty cleaning cart was magnificent. A light seemed to shine on the thing, that's how bright and crisp it looked in that garage. I sort of scream-yelped and said, "That's it! That's my hat! That's it! Oh, oh! Oh, thank you, thank you, thank you!"
I threw myself on both of them, hugged them both so hard. I nearly kissed their cheeks but with my hat back on my head, it made it difficult and that was probably for the best. I gave the gap-toothed guy all the cash in my wallet, which was $8, and I hugged him again and told him that my hat was a very special hat, that it meant so much to me that he found it and kept it safe. And then I ran out of that garage. I didn't need to run; I didn't have anywhere to go but back home. I ran away, away, away from the fresh memory of pain, I guess.
I hopped on a bike-share bike and rode home in steady rain. I was not happy, exactly — I was too drained for that — but my senses were heightened. The smell of caramel corn at the Garrett's on Dearborn was stronger. The sound of the el sounded bigger.
The rain felt wetter, too, but not on my face. My hat keeps the rain off my face.