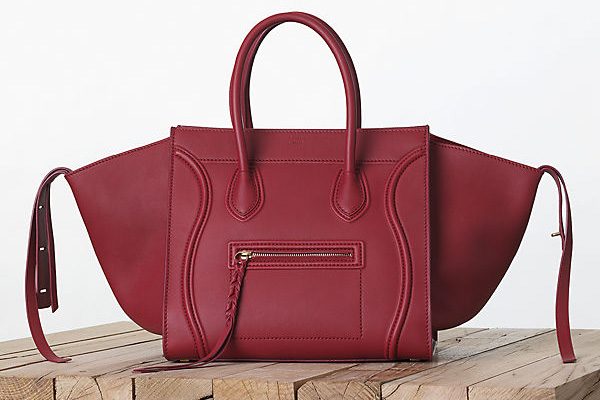 In Nebraska, you get an extra scoop of ice cream at the ice cream shop just because you're nice. That actually happened.
You can't get a good piece of fish anywhere, but what's wrong with you? You're as landlocked as a person can get in the United States. Eat steak.
In Nebraska, you can visit the International Quilt Study Center — a.k.a. Valhalla for quilt geeks. You'll receive a near-stately welcome and be rendered speechless when you enter the galleries. Perhaps for the first time in your life you will see quilts given the honor and solemn respect they deserve. This is way, way better than eating substandard fish or even well-ordered steak. Please go there.
And if you're carrying a Celine handbag within state lines, you will be mobbed in Nebraska.
Look, these are things I know and I tell you because I care about you.
My mother and I stopped by an outlet mall on our way into town. Mom needed pantyhose. We figured at the outlet mall we could get out and stretch our legs, find a cup of coffee, get those hose. And so we exited for Nebraska Crossing, a sprawling, newly-constructed discount compound. I'm not a huge fan of outlet malls; the shopping experience always feels a bit like a mouthful of styrofoam. But it was a warm day and there was a Brooks Brothers store on the grounds, so I was game. I like Brooks Brothers shirts.
So Mom and I are going along and twice in two different shops, I was complimented on my handbag. I am currently toting around a rawther nice handbag, it's true: it's a Celine Phantom bag from last year. It's oxblood-colored (strangely tempting to use the UK spelling there — "oxblood-coloured" — but I wouldn't dare) and is not the mini-version of the Phantom that has been showing up lately. This beast is the full monty, the real deal, and it's head-slappingly gorgeous, if you're into that sort of thing, which I am. The bag was a gift, and that's a story for another day, when you and I have a quality Zinfandel and about an hour to kill at an airport bar.
My mother found her pantyhose and that was all we bought the whole time we were at Nebraska Crossing, but we looked around the place for well over an hour, enjoying being together and not working. The last store we popped into was the Michael Kors store. We walked in and were just about to walk out when a twinky young sales assistant approached me.
"Oooh, I love your bag," he said, eyes fixed on the smooth leather. "It almost looks like Celine."
"It is Celine," I said with a smile.
My answer appeared to throw the young man into physical pain.
"NO!" he gasped. "Braden!!!"
A second twinky sales associate levitated over. Both of them were 90lbs soaking wet, both barely in their twenties. They flapped their hands and were jumping up and down, touching my handbag and clutching their chests.
"That is seriously Celine," said the first young man, fingering the tiny logo at the top of the bag. "Seriously, seriously, seriously Celine." He was almost in tears. He looked at his friend. "Phoebe Philo is life."*
"Can I hold it??" the second one asked me.
Of course he could, I said, and I let the boys try out the bag. One of them joked that he was going to take off with it and made a little motion of turning and running, which was slightly less funny to me than it was to his friend.
Two other sales associates came over, both girls this time, both every bit as hysterical as their colleagues. I now had a veritable gallery of youth cooing and fluffernutting over my handbag. It was fun for a moment, but then a terrible wave of depression came over me. These kids cared too much about this. I darkened right there before them, though they didn't know it. To be complimented is one thing; to be conspicuously gagged over for an object you happen to possess is another. It was intensely uncomfortable, being the carrier of such wanton material love.
But I took a breath and allowed it to run its course. Because I know what it's like to grow up in the sticks and see an artifact From Beyond. When you have your sights on leaving cornfields for skyscrapers, it's a big deal when a high-rise shimmers into view. You gotta inspect it, you gotta fuel your next year of high school with that image or experience. For some kids on the prairie, it's music From Beyond that keeps them going. For others, it's pictures of Istanbul or Belize. For others, it's fashion. It's Celine. And it's not fair to judge a kid for the obsession, not fair to make his love small or light; to him, it's entirely serious, possibly life-or-death serious.
We left, and my mom, who hadn't seen the full freakout, said, "What was that all about?"
"Fashion," I said, and we went to find the car.
*Phoebe Philo is the British designer at the helm of the house of Celine.