Google Analytics reveals much. But lo, like the Oracle at Delphi, the Great Google Analyst In The Sky conjures more questions than answers. Oh, Great Google Analyst In The Sky, what secrets do you hide? (Cue synthesizer music, fog machine.)
According to Google Analytics, the top-rated searches that lead to this site are: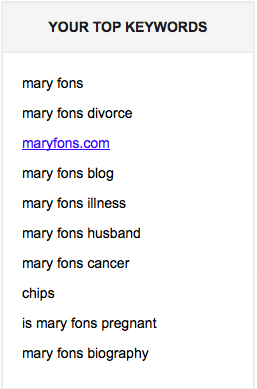 What can we learn?
Well, people like to get the dirt. Am I divorced? how long ago? pregnant? how recently? diseased? in general or in a specific place? But we know already that people are like that. Heck, I'm like that. Scuttlebuttery is to the Internet as puddin' is to a long-john donut: inevitable. And bad for you — and delicious.
That "mary fons divorce" comes up before the actual URL to my website is a little weird, but all right. And I look at the words "divorce" and "cancer" attached to the googling of my name and feel a little defensive. But who knows? Maybe those searches are born of concern. I have been very sick in the past and I am divorced. There you go: your search has ended.
The "is mary fons pregnant" search throws me into a mini-funk, though. It really is true that television makes a person look wider than they are in real life. I went through a phase when I enjoyed wearing geometric tunic tops with black tights and kitten heels. A good look walking down big city streets, for sure; on television, not so much. I look like I'm wearing a different mu-mu on every show that series. Why would I be wearing such strange, diaphanous clothing on TV?
Well, many people thought I was pregnant. A woman actually came up to me in Sacramento and whispered, "Mary, I hope you don't mind if I ask, but… Were you pregnant?" I opened and closed my mouth like a fish for a few seconds and then the woman realized she did that thing that you're never, ever, ever supposed to do. I said, reflexively, "You're not supposed to ask people that." She blushed nine ways from Sunday and that was the end of the conversation. But seriously: what if I had been pregnant? I don't have a baby. If I was pregnant in the recent past but don't presently have a baby, we could conclude one of a number of sorrowful outcomes had occurred in my life. Best not to ask a person that. Just google it when you get home.
Enough of that. We need to consider that other google result. You know, the other one up there. Third from the bottom we see:
Chips.
Chips!?
Just "chips." Not even "Mary Fons, chips." But it has to be. People have to be typing in something that connects my name with chips. I'm picturing potato chips, but is it paint chips?? Chocolate chips? Chip-off-the-old-block chips? Cow chips? How can we know? Separated by a comma like that in a search engine field, it sounds like a command to eat potato chips: "Chips, Mary Fons." Typed the other way, it's like I'm being introduced by a friend to chips:
"Mary Fons, chips."
"How d'you do, chips?"
:: crunch, crunch, crunch ::
"The pleasure is all mine. That's a lovely blouse."
I can't explain these search results. I do not understand "chips." But I am happy with the wisdom and insight you have brought to me, Google Analytics. Please let me know if you would like me to make a burnt offering, or perhaps tithe to you a small goat served with chips and a pop.