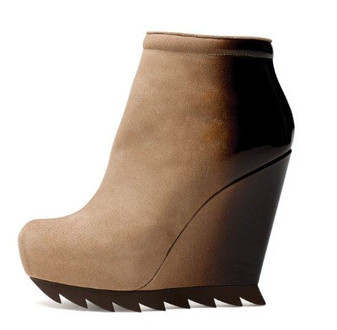 Dear Ms. Skovgaard:
I purchased your Bi-Sepia Ankle Wedge Boot w/Saw Sole last season from a designer discount retailer. You'll be happy to know your boots were still hella expensive! I knew when I saw them that I was in trouble: they were singular and ferocious. I also needed a boot desperately, as I had actually worn through the leather of my old pair. They went into my digital shopping cart at once. Little did I know what a phenomenal purchase I had just made.
Yesterday, slushy, wet, fat snow came down in New York. It stuck to everyone's hair and made all the wool in the city smell like wet dog, which was super. Though you are based in London, I have a hunch you've been in NYC a few times and have seen the state of the streets here. The state of the streets is not good, especially at the curb of any intersection in lower Manhattan. When the big snow grater in the sky opens up, Olympic-sized pools of evil slush form in these canyons and you find yourself quite literally at an impasse.
Unless you're me. In your boots.
When my sister first saw them she rolled her eyes and said, "Okay, so you're going to break your neck." True, your boots do not look practical for snow and ice. But we know better, don't we, Ms. Skovgaard. We know you have created the perfect city winter boot precisely because of the height. It's like walking on wooden blocks 5" above the slush and snow! These things are freaking stilts! My socks never get wet! I can practically wade through the slurry! And I look hot doing it!  
But that's not all!
The saw sole is genius. I have never found a lady's boot with this kind of traction, and that includes ladyboots found in the Circle B farm equipment store in my midwest hometown. The rubber teeth on these boots are for serious urban-winter walking. I do not slip. I do not stumble. I do not slide. I crunch. I stomp. I skump. (I don't know what skumping is, but I don't know what's in that NYC slush, either; all I know is that I don't get any on me when I'm skumping around in my sick, sick boots.) Your brilliant design of the heel must also be noted: as you know, it is very, very narrow. I was alarmed at first, thinking the extremely narrow heel would cause balance trouble. Quite the contrary. It acts as a damn ice pick if I have to scale a small (dirty) snow drift either here or in Chicago! Sometimes I hit a skump of ice with my heel first to get purchase and then I vault over it with a push from the other leg. Can you hear me right now? Slow-clapping and whistling my approval?
This is my second winter with my boots, Ms. Skovgaard, and I am as pleased this year as I was last. I feel like a character in a video game because a) I look like a character in a video game and b) I feel like I have special powers that not everyone has. Not that they shouldn't have them, too. Everyone should. I hope this thank-you note leads to even one more pair of your boots sold.
Hats off to you and your team. Hats off, boots on and on.
Sincerely,
Mary Fons