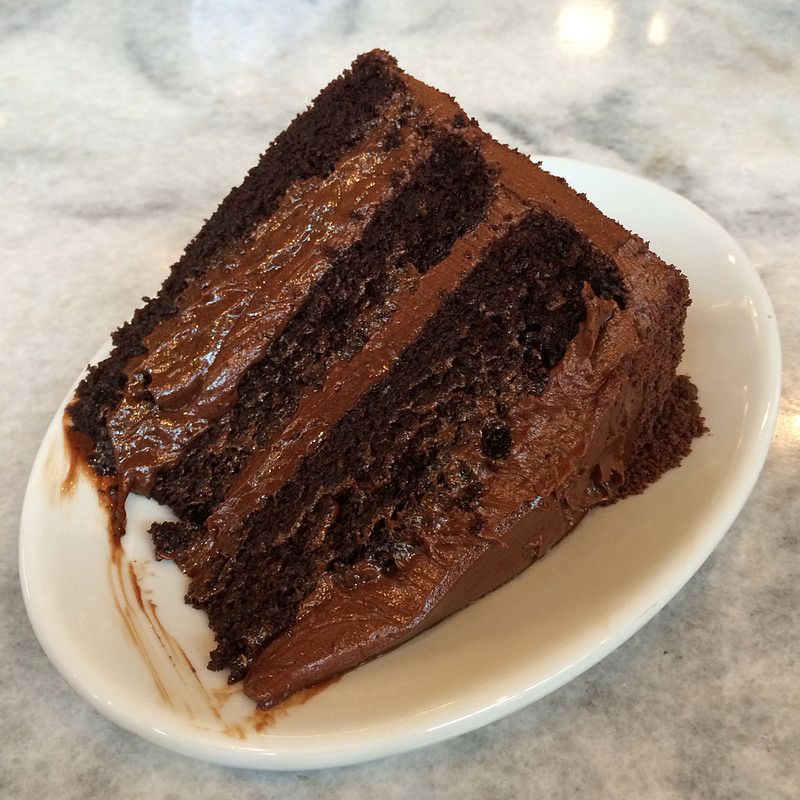 After the time away and the big announcements about graduation and Ken Burns (!), I'm feeling a desire for a good, old-fashioned PaperGirl post about something small but remarkable.
Do you feel me on this? I don't want to do the pledge drive yet, I don't want to make any grand proclamations, even though I have several to make. No, I just want to type up a standard-issue PaperGirl-Out-In-The-World observation, fold it into a digital paper airplane and sail it your way. Does that sound all right?
Let's see, what have I got — ah, yes!
A couple weeks ago, flying home from Nebraska, I rubbed my eyes and pulled out my laptop. I was tired, but I had to read about Navajo blanket weaving for class. No sooner had I read the introduction did the most heavenly smell on the planet come wafting by my nose.
Fresh chocolate cake.
The sugary, buttery, cocoa-rich smell of a moist chocolate cake, thick with creamy frosting, was suddenly filling the air. The smell was definitely fresh chocolate cake and it was pungent, I'm telling you: This wasn't some passenger's cup of airplane hot chocolate I was smelling. The whole plane suddenly smelled like a magic chocolate cake bakery. But where? Why??
I sat up in my chair and craned my neck around to find the source. It was dim in the cabin, so I couldn't see very well. I continued to followed my nose until I saw her.
There, in the seat kitty-corner from me, a lady was happily — okay, blissfully — eating forkfuls of chocolate cake from the plastic to-go container plunked on her tray table.
I loved her for eating this cake. The wedge was huge. The frosting was so thick I could see it pulling on the cake as she lifted big bites to her mouth. She was talking to someone next to her but I don't know they were tag-teaming this cake. I think this was her deal. I think she and her friend (brother? husband? complete stranger?) were at a restaurant in Omaha and they looked at the time and it was like, "Nope, we don't have time for dessert; gotta get to the airport." And she was like, "Well, in that case, I'd like your biggest slice of chocolate cake to go."
I watched the woman for a minute or too and it was great. But better than watching her was watching everyone else watch her. Let me tell you what brings people together: the smell of chocolate cake. All the people in our immediate vicinity had the same reaction that I had when they smelled that lady's fabulous plane snack. They sat up. They inhaled deeply. They looked around like prarie dogs. They identified the cake person. And they watched her with a little envy but mostly happiness.
A person going to town on a gorgeous piece of chocolate cake?
Small but remarkable.
P.S. The font is darker now, yes? 😀