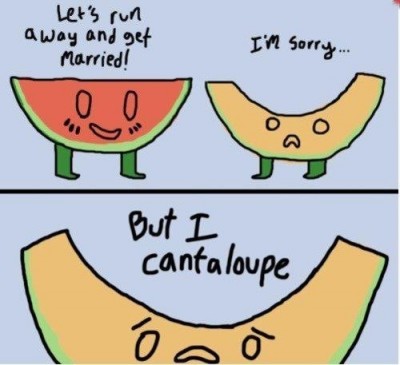 Man! All the empathy and the bummed out fourth graders around here are starting to get to me. Today, a diversion. Ladies and gentlemen, I bring you The Cantaloupe Poem, a little ditty I wrote awhile back and the first in my series of fruit poems.
Enjoy, and read aloud if you're able. The meter is entertaining and you can do voices if you want.
The Cantaloupe Poem
by Mary Fons
Say, friend! Could you spare some time,
For the timid cantaloupe?
That humble fruit whose name don't rhyme,
'Cept with "antelope."
Not fit for tarts, no good for pie,
Pale melon sits, dejected.
"I'm tasty!" you can hear it cry —
But to whom's the call directed?

The lady ne'er looks its way,
While enjoying her fruit salad,
"I'm sure the flavor's swell," she'll say,
"But the color's rather pallid."
The men all pass it up and shout,
"Cantaloupe's for fairies!"
(Yet they're always ready to flip out,
For oranges and strawberries.)
The fruit tends to befuddle
Those coarse and less refined,
The pastel melon's flavor's subtle —
Not counting, 'course, the rind.
 Do enjoy some, like with ham!
Wrapped 'round a slender slice!
You'll quickly say, "Well, damn!"
"Now that tastes really nice!"
Or smooth it in a blender
On a hot midsummer's day,
Then sit back and surrender
To a cantaloupe sorbet.
Oh, friends! Do reassess
Any anti-melon feeling;
Say not "no" but "Yes, yes, yes!"
And soon I'll hear you squealing:
"Cantaloupe, I love you!
How firm and how delicious!
There's now no fruit above you!
You're yummy and nutritious!"