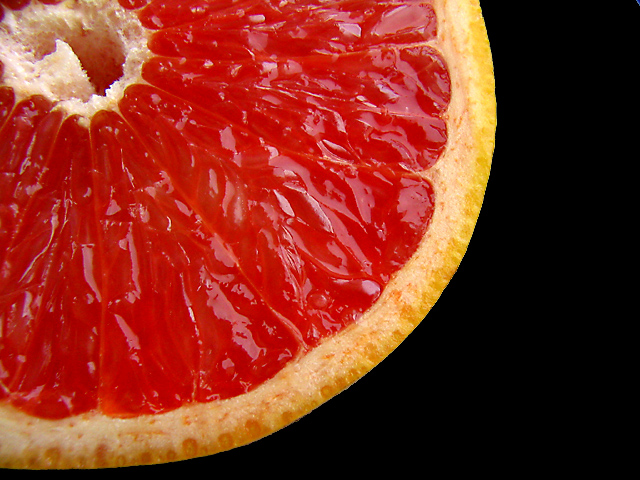 Long ago, in a Chicago far away, when I was a poet with barely enough rent money and my friends were all theater performers and poets with barely enough rent money, I learned a simple way to be happy.
It involves a grapefruit. So have one handy. I'll wait.
*       *       *
I was in a friend's apartment at Belmont and Clark. If you know Chicago, you know the corner of Belmont and Clark is rough around the edges: there's a Dunkin Donuts, a crack spot, and a recovery house all crammed together, and that's all next door to the tattoo shop, the Chinese market, and the skankiest Jamba Juice on earth. The Mexican restaurant down the block is good, if "good" means a place that serves margaritas so strong you don't know your name when you leave.
My friend and I had been up and out all night. We were twenty-two. Kids. Kids with lame jobs, adult responsibilities, and zero supervision. We woke hungover, of course, and annoyed that the sun existed.
My friend's apartment was in the bird's nest part of the building on the corner of Belmont and Clark and it had these gorgeous, tall windows. I appreciated them aesthetically, even then, but I hated them that morning. Light poured in; there were no blinds. We were clearly ants under a microscope held by some supernatural force who was punishing us for our sins.
"Do you want a grapefruit?" my friend asked me, coming back into the living room where I was, scrunched into the couch trying to escape the light. I had crashed on the couch several hours earlier.
"No," I said. "I would like to go home."
"It's really good how I make it," he said. "I promise. Come sit at the table."
The look I gave him was full dagger. But he had been rebuffed the night before by the boy he was in love with, so I couldn't be mean. I pulled my bones up and dragged my body to the formica-topped table in the tiny kitchen. And there, I watched my friend make a magic treat.
He cut a beautiful, big, ruby red grapefruit in half with a serrated knife. He put each half in a bowl. Then he took down a Honey Bear (proper noun?) and drizzled honey over the top of each half. He then went to the microwave and put the bowls inside. He punched some buttons.
"Thirty seconds," he said, and I squinted at him. He slumped against the sink like he was an old, old man. Youth is not wasted on the young. The young, they pay for it. We paid for it.
The microwave beeped that it was done. My friend put my hot grapefruit in front of me, sat down with his, handed me a grapefruit spoon (clearly a possession in his life vis a vis a kind set of civilized parents) and we dug in.
And everything was okay. Because into my mouth went chunks of cool, juicy, tart chunks of grapefruit, each with hot, melted sweetness on top. The warmth, the chill; the tart, the sweet. It was a revelation, and nothing felt bad anymore, and the sun looked the way it actually was: beautiful.
I eat grapefruit prepared this way quite a bit, so many years later.