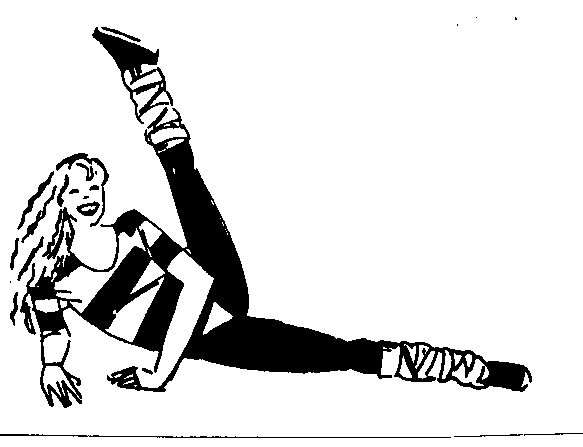 On and off (mostly on) for three years or so, I was a Bikram yogini. Bikram yoga is the hottest of the so-called "hot yoga" practices. The room is heated to 105 degrees. For 90-straight minutes you stand in very little clothing in front of full-length mirrors with the rest of the class. The twenty-one poses in the practice are always the same. And it's as hard as it sounds, which means that it feels fantastic. Exercise is like that: the tougher the better — at least when it's over.
But I got a little too into Bikram. The practice is advertised (!) as being most effective when it's done daily; I jumped onboard with the fervor of a new cult recruit. I would frequently take two classes in one day. Two classes a day! Once, just to prove I could — I'm hesitant to admit this — I did three. Three Bikram yoga classes in a single day. But why?
Subconsciously or consciously, I thought Bikram yoga could fix me, cure me, make me acceptable as a person. Acceptable to whom, I do not know. I spent much of my twenties, I see now, concerned about everything that I felt was wrong with me. I don't do that anymore. There's plenty wrong and I haven't given up aspiring to be more happy, more helpful, etc., but rather than seeing myself as a damaged, cute-but-junky heap in need of major renovations, I simply make tweaks and modifications to a person that I actually like pretty well. Dammit, I'm not broken. You're not either. That's the key to the lock.
Bikram drifted away, eventually. At some point, there came some peace; I needed it less. But to tell the truth, there was also a traumatic event that helped me let go: my ostomy bag leaked in class. Oh, yes. Yes, it did. If you'd like to live a nightmare, I recommend that one. The combination of feeling like I didn't have to kill myself in class everyday and the desire to actually die when that happened put me off my yoga.
To keep my figure these days, I do dance aerobics because I love to dance. I mean I love to dance, though I'm hopeless in classes. In classes, I have two left feet. My dancing is best when I'm at a club or in my living room. Even in the construction, my condo becomes my dance floor. I put on legwarmers and short-shorts and pull my hair into a ponytail and hop around like a bunny rabbit, leaping and twirling and whipping my hair all around.
When I'm dancing, it's fun. It's not punishment. It's not obligatory. I don't do it three times in one day for 90-minutes a pop. Dancing like this comes from a place of spontaneous joy: it doesn't work, otherwise. I sweat, I keep my figure, I smile. And I hope the neighbors in the mid-rise building across the street can see me. I do better with an audience. Always have.